Vitality Unlimited CEO Ester Quilici speaks to Elko City Planning Commission on Oct. 4, 2022, in Elko City Hall.
Photo credit: Marianne McKown, Vitality Unlimited Outreach and Partnership Development Specialist
Plans for Vitality Women's Residence in Elko move forward – 10/04/2022
By Marianne McKown
Vitality Unlimited Outreach and Partnership Development Coordinator
ELKO — Vitality Center is another step closer to having a new women's residence.
Elko City Planning Commission on Tuesday, Oct. 4, conditionally approved a conditional use permit for a new Vitality Unlimited Women's Residence on Southside Drive.
Vitality Unlimited CEO Ester Quilici told the planning commissioners that the nonprofit has operated transitional living in Elko since 1984. It has been affiliated with Vitality Center, which is a substance abuse residential treatment center.  She called the new women's residence "a legacy project."
Read more
"The house in which we're operating now, which we've been in since the early '90s, is just antiquated," she said.
The property has been vacant since 2016, when a fire destroyed the previous building on the land. The women's residence will have up to 10 residents at a time.
Vitality plans to use American Rescue Plan Act (ARPA) funding from the city to help pay for a major portion of this new building.
"This is the future for this women's program. It has served years of families, and I say families because if you treat the women, you help treat the families for a healthier future," Quilici said.
The residence will not have a lot of traffic because Vitality doesn't allow the program participants to drive their vehicles to the residence. Vitality staff transport the women back and forth from Vitality Center.
"So, you'll have one van in and one van out once a day," Quilici said. "On weekends they're home on Sundays. They're never allowed to be unsupervised. We always have awake staff 24/7 when they're in the house."
Quilici said, they "are good neighbors," and Vitality hopes the new residence "will be in service for many, many years."
"It's needed," she said. "Alcohol and drug issues are a continuous problem in the state of Nevada and these women get optimum services including mental health services. I wish you would recommend this tonight, and we can get started on it tomorrow."
The only public comment came from Karen Cruson who has a dental office that will be next to the women's residence.
"I appreciate Ms. Quilici, you, explaining more about the situation. My concern was traffic because people come whipping around that corner pretty fast," Cruson said.
The property has frontage off Lamoille Highway, but it will only be accessed through Southside Drive.
This property has frontage on Southside Drive and Lamoille Highway and according to city code would require curb, gutter, and sidewalk along all street frontages, stated city staff. However, the Nevada Department of Transportation does not want curb, gutter, or sidewalk along their road — Lamoille Highway. City staff said Vitality will have to request a waiver from Elko City Council concerning the requirement.
City Planning Commission Chair Jeff Dalling suggested that the commission recommend to the City Council to grant the waiver.
"We need a Vitality Center," said Dalling. "I've never seen any problems with the other one, and I think a big telling is that nobody, no residents, are here to complain. So that's a big one for me."
The other planning commissioners agreed.
"I take my hat off to Vitality Center," said Planning Commissioner Stefan Beck. "The resources are not nearly what they were or what they should be. You make such a difference. You have such a positive impact on people that have issues. If you can fix them right then, it makes a huge difference. I think one of the problems we have in this country is that no one recognizes that. You can be homeless because you have a problem. That doesn't mean you are a bad person. … It really is an important thing that you guys do, and I think a lot of people recognize that, so thank you."
Quilici thanked the commissioners for their endorsements. She reinforced to those in attendance that Vitality is "a good neighbor."
"You will not have any problems, in fact I think you'll welcome us," she said. "The house will be maintained well. It is nicely designed, and I think it will be well built. There's kind of a hole in the neighborhood, and this house will fill up that hole in the neighborhood."
Quilici's only regret was the amount of concrete parking that is required for the project.
"It's too bad that some of this couldn't be waived," she said. "Why, because this is a home. What you do is you try, and you give these women a home in which to live, and you begin to change them inside and outside."
Vitality Unlimited staff, Jay Kvam, Shelly Kuzma, Amanda Running Wolf and Tess Fairbanks pose for a photo at eCW National Conference in October 2022.
Vitality Unlimited staff attend eClinical Works conference
Vitality Unlimited staff traveled to Orlando, Fla. for a National Conference on eClinical Works in October.
Staff learned about the new upgrades to the eCW system.
They were presented with new applications that will become available before the end of the year to enhance consumer interactions with staff.
Vitality Unlimited CEO Ester Quilici speaks Feb. 8, 2022, at Elko City Council.
Photo credit: Marianne McKown, Vitality Unlimited Outreach and Partnership Development Specialist
Elko City awards Vitality Unlimited with ARPA funds – 02/08/2022
ELKO – Vitality Unlimited will receive $1,025,000 of Elko City's $27.4 million from the American Rescue Plan Act of 2021.
Elko City Council voted Feb. 8 to award $878,000 to Vitality Unlimited to increase behavioral health and addiction treatment and increase mobile and crisis response, and an additional $147,000 for Vitality's pandemic resilience.
The American Rescue Plan Act of 2021, also known as ARPA, was established to help states and localities address the economic and health consequences of the COVID-19 public health emergency and its economic impacts, stated the council's agenda. One of the four eligible categories for this funding allows the city to aid households, small businesses, and nonprofits or impacted industries. During the City's ARPA hearings last fall, the "Council recognized the negative behavioral health impacts on the community as a result of COVID-19," according to the agenda.
Read more
City staff recommended awarding grants to organizations committed to promote and expand behavioral health services in Elko, and Vitality Unlimited was one of three organizations chosen. The other two were Nevada Health Centers and Northeastern Nevada Regional Hospital.
In October, Vitality submitted three proposals for funding from the city.
Vitality Unlimited CEO Ester Quilici thanked city staff and council for the funds.
"I've been part of a growing organization since I got here in '84," she said. "I'm amazed at the teamwork that brought Vitality here today."
The first proposal will increase behavioral health and addiction treatment capacity and increase mobile crisis response, she said. The funds will be used to hire a psychologist and a licensed clinical alcohol and drug counselor.
"When you have an addiction, you want to turn it over to the specialist," Quilici told council. "A licensed clinical alcohol and drug counselor would be a combination. It would be a mental health professional and an addiction specialist."
The nonprofit also has plans to hire an additional advanced practice registered nurse that specializes in psychiatric care.
"We are delivering primary care also as part of our mandate for the CCBHCs," Quilici said. "We do have targeted case management. To have a full spectrum of behavioral health services, targeted case management is a must. We also have an outreach coordinator that would be helping to facilitate the partnerships that any organization here in the Elko area is going to need. We would be very happy to partner with the hospital, and one of our long-standing partners has been Nevada Health Centers and I'm sure we'll continue to be (partners) and I hope we will be for them."
Quilici said one of her organization's offices, Vitality Integrated Programs (VIP), is "squeezed" for space. VIP is one of four certified community behavioral health clinics Vitality Unlimited runs in Nevada. The other three are located in Carson City, Dayton and Reno.
The ARPA funds will also allow Vitality to expand its trauma and crisis response as a provider for 9-8-8 calls for mental health emergencies.
"We're hoping to work in partnership with the Elko Police Department," Quilici said.
The nonprofit will purchase a van and customize it as a mobile therapy office that will include telehealth.
"What is that going to give us the capacity to do? It will give us the capacity to be mobile because CCBHCs are practices without walls," she said. "If you can't come to us, we'll come to you."
Quilici said Vitality staff already provides services to the homeless population, and they have plans to provide more assistance to the individuals in the homeless camp in the city.
"That is a part of Elko that has to be addressed," she said. "We are very willing to do that with our crisis mobile response, and we want to work in cooperation with Elko PD to help facilitate their officers in addressing the concerns of the community."
The second part of the funds awarded to Vitality will assist the nonprofit to increase the health, safety, and restorative nature of the inpatient treatment center.
"We have a treatment center here in Elko that is filled to capacity most of the time," Quilici told council.
To continue to use it "in the best way possible," Vitality will upgrade the building's HVAC with scrubbers so it provides the "healthiest environment possible," she said. The organization also plans to install a walk-in refrigerator and freezer to increase food storage capacity.
"We were facing shortages in this last go around," she said. "It got pretty hairy."
The inpatient facility also will have light fixture replacements to improve efficiency for the therapy environment and energy efficient windows will be installed to reduce energy consumption. Some landscaping also will be done to provide more outside therapy.
The third part of Vitality's original proposal was not funded by the city. Quilici said her agency will provide further information to the city in hopes that a house for a women's treatment residence may be funded. Vitality previously told the city that on average 150 women each year receive inpatient treatment.
"That other portion may come back," Councilwoman Mandy Simons told Quilici. "This is just what we are voting on today."
Quilici thanked council again for the funds.
"We've been in the behavioral health business since 2017," Quilici said. "We have the opportunity to expand what we do. To partner with others to provide additional services, and we also have the opportunity if we have to go outside the city limits now. … Thank you for the support. It's support of a project that will have long term (impact). It will have a legacy."
Barracuda Championship Tournament Director Chris Hoff, left, and Dr. Matthew Mills, right, present a $5,500 check to Heather Harzke, program director for Vitality Veterans Housing Program. (photo credit: Marianne McKown, Vitality Unlimited outreach and partnership development specialist)
Vitality Veterans Housing receives $5,500 from Eye Care Professionals and Barracuda Championship – 12/20/2021
RENO – Vitality Veterans Housing Program – GPD received an early Christmas present this year when Eye Care Professionals and Barracuda Championship presented the organization with a $5,500 donation on Monday, Dec. 20, 2021.
Dr. Matthew Mills of Eye Care Professionals said he selected the charity that helps veterans for the Barracuda Championship's Birdies for the Brave.
"We all know that there are veterans in the community that struggle and need support. … I looked into this group called Vitality Unlimited, and the work that they do here in Reno, in Carson City and in Elko and perhaps other cities as well," Mills said. "I thought this was a great opportunity to provide support for them and the work that they do."
Read more
The Barracuda Championship is a regular stop on the PGA Tour and for 23 years the tournament has provided $4.6 million dollars to charities.
"This is the perfect example of the partnerships that we're trying to create here in the community," said Barracuda Championship Tournament Director Chris Hoff. "Dr. Mills has been a great supporter of ours through the years and coming up with unique ways of not only giving back but partnering with the tournament. These are what we are trying to do each, and every year. We can't thank Dr. Mills enough for everything he has done for us, and hopefully going forward we can really build on this."
Vitality's program works with the VA Sierra Nevada Health Care System, Healthcare for Homeless Veterans, to provide transitional housing to homeless veterans along with other services that assist them to move into independent housing.
Heather Harzke, program director for Vitality Veterans Housing Program said the veterans can range in age from 18 to almost 100. The facility recently helped a 98-year-old World War II veteran. Vitality's housing is a grant per diem program, which means the VA provides funds for basic operation of the program, but it doesn't pay for the extras, such as clothing for the veterans and other luxuries such as dishes and beds when they move into their own homes.
"Having any kind of contribution helps us be able to provide better care for them so that we can help them with housing, help them with employment or just being able to get them supplies," Harzke said.
The Vitality Veterans Housing Program is typically a three- to nine-month program but sometimes the VA will allow for an extension depending on the circumstances of the individual.
"We're not going to kick somebody out on the street just because they had to wait to get documentation," Harzke said.
The goal of the program is to prepare the veterans and provide them with the correct tools that they need so when they find sustainable housing they don't relapse back into homelessness, Harzke said
"We definitely have made a family community, so this donation significantly helps us to be able to provide services for our veterans," she said.
Mills said he was thrilled to present the check to Vitality Veterans Housing.
"I'm hoping that we're planting a seed here with Birdies for the Brave that could grow over time and have a greater impact as the years go by," said Mills.
Nevada State Treasurer Zach Conine hosted two meetings in Elko, NV this week on a listening tour for input on how to spend the 6.7 billion in federal money coming into Nevada. A general meeting was held Wednesday evening 09/01/21 for the general public and on Thursday morning 09/02/21 for business stakeholders. Ms. Quilici presented the case for funding concerns, barriers to getting and retaining qualified staffing and shortfalls in funding in the substance use treatment and behavioral health service industry. See attached "White Paper" (attached) for more information.
Vitality Unlimited encourages all Nevadan's to participate in the survey about using these funds by going to the NevadaRecovers.org website. Here is the survey link:
Community support!! Nevada Gold Now Partnering with Vitality Unlimited & Family Resource Center of Winnemucca!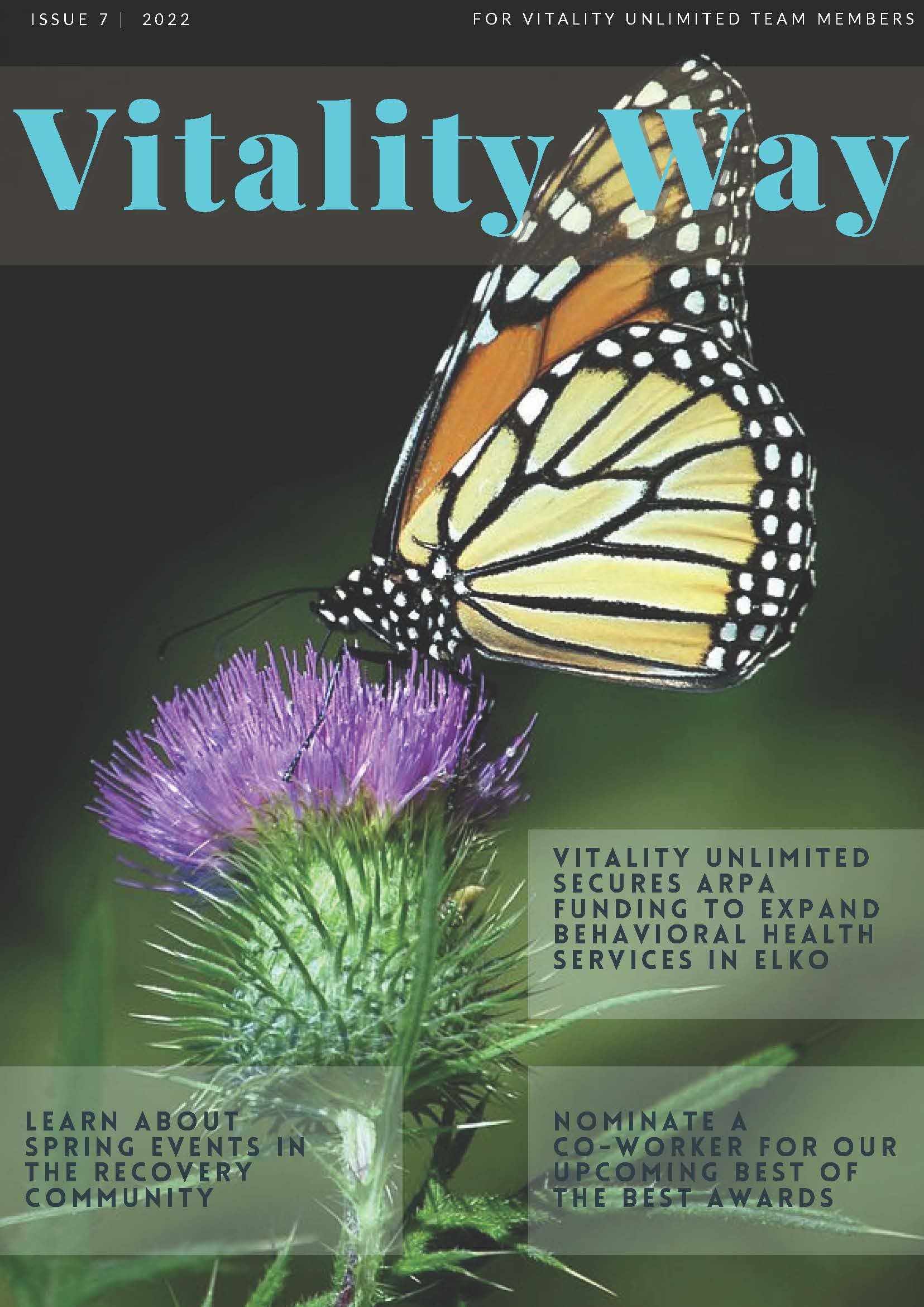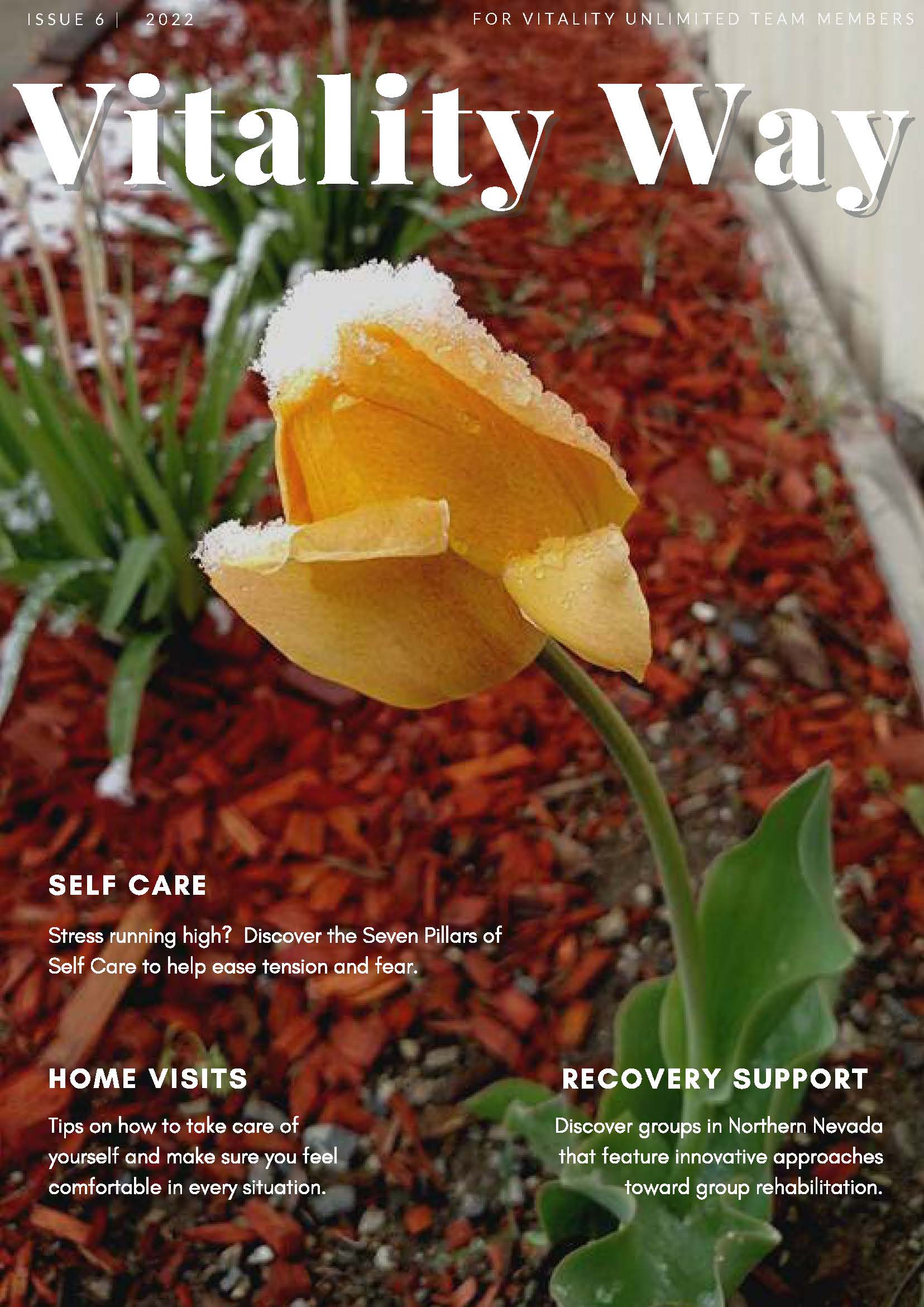 Vitality Way Issue 6 Feb. 2022
Vitality Way Issue 5 Q3 2021
Vitality Way Issue 4 Q2 2021
Vitality Way Issue 3 Q4 2020
Vitality Way Issue 2 Q3 2020
Carson City's Vitality stands out as leader in delivering comprehensive behavioral, mental health help – 07/08/2021
Read on CarsonNow.org
Ester Quilici, CEO Vitality Unlimited
Vitality Unlimited is Celebrating 50 Years! – 03/29/2021
ELKO – From its humble beginnings in 1971 to its current multi-location service, Vitality Unlimited has come a long way.
"It was a community-based organization with public/private partnership," said CEO Ester Quilici. "It was created by a group of citizens here in Elko as well as other groups around the state of Nevada."
Quilici said when the federal government decided to promote community-based programs that would address alcohol and drug addiction, they reached out to communities.
Read more
"I saw the original document where nine people signed on the bottom that they wanted to be on the committee to create the Elko Area Council on Alcohol and Other Drugs of Abuse, ENCADA."
She said the organization incorporated in 1972, then began to flounder.
Then, Dorothy North came on board in 1977.
Quilici wrote that North "… had vision, drive, talent and training as a substance use disorder counselor. She was also a good administrator and developed a good relationship with the state to apply for funding. In the early '80s she had an established outpatient practice, a transitional house and a detoxification program. In 1982 she established residential [care].
"When I came in 1984 she was underway in negotiating with a local developer to build Vitality Center, which was completed in 1985. We began our expansion into Winnemucca, Wendover, Ely, Caliente and Pioche. These were subsequently closed because of lack of funding."
Quilici describes herself as an "Elko County girl." She went to college in California and worked for some time in Las Vegas. When she took the job with Vitality she was returning to her hometown.
"I came back to take a job and the job took me," she said. "It became a life career."
"I've always said Vitality is a living organism," Quilici said. "My job was to make sure it stayed alive because it cared for so many."
Quilici said that in the '90s they developed a prison-based treatment program at Warm Springs in Carson City. There was an 82.25% success rate with this group. The program operated for almost nine years, treating over 1,500 inmates. But it, too, closed due to lack of funding.
Also in the '90s, Vitality opened an adolescent program in Washoe County along with a program for parolees. Lack of funding ended those operations as well.
During that time the institution started an affordable housing plan in Elko and Wells. They created Sage House Transitional Living for Men in the '90s.
"In the mid-2000s we operated a California state-approved DUI program, out-patient and residential program close to Lake Tahoe," Quilici wrote. "We closed our program, sold our properties because of the difficulties operating in California, and moved our residential and detoxification program to Carson City."
Quilici has written a historical recollection of the organization's operations for the next publication of "Vitality Way," an internal magazine.
"We are pretty broad-scoped as a company," she said.
The operation is run as a nonprofit.
Gov. Brian Sandoval did the state a big favor during his term in office, according to Quilici. The state increased Medicaid opportunity, which allowed for more funding for the organization.
In 2017 the company took a giant leap, according to Quilici. It was one of the first to add the new behavioral health model and expand services to offer Vitality Integrated Programs. They are now a Certified Community Behavioral Health Clinic.
Now the center can treat co-occurring problems involving substance use disorders and mental health issues, Quilici said.
"We used to have substance abuse treatment and now most of them have a dual diagnosis," she said.
The organization now has a psychiatrist and three advanced practitioners of nursing.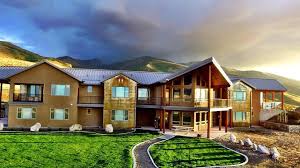 Vitality Unlimited hosts its first annual Leadership Summit – 10/23/2020
Over the weekend of November 23- 25th Vitality Unlimited invited appointed staff to a Leadership Summit at the prestigious and beautiful Ruby 360 Lodge, outside of Lamoille, Nevada.
Staff from both Carson City Facilities and Elko Facilities attended the event which included excellent food and drink, in a beautiful setting. The event was facilitated by Diane Hansen of What Works Consultants with the cooperation, input and participation by Vitality Unlimited's CEO Ester Quilici and CFO Dottye Dexter.
Read more
The workshop identified staff strengths and emotional intelligence capabilities to enable consistency and policy and program Integration company wide in a fun and entertaining fashion.
Many staff had never met their counterparts on the other side of the State personally, so it was an important event to enhance interpersonal relationships with the focus on the positive advancement into the future of Vitality Unlimited.
As a highlight, the event ended with Helicopter rides over the Ruby Mountain area that was thrilling and beautiful!
According to staff feedback, they found the event a positive, enlightening and informative experience. The event's success has prompted the CEO and CFO to make the Summit an annual event.
Vitality's Heather DeAngeli on How to Deal with Stress and Despair – 06/11/2020
Read on ElkoDaily.com
Clinician joining Vitality Unlimited – 04/23/2020
Read on ElkoDaily.com
Vitality Center gets $226,348 grant to address opioid crisis – 07/16/2019
Read on ElkoDaily.com
2020-2021 CCBHC Annual Report